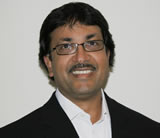 Dr Roger Chatoor
MBBS FRCP FSCAI FRACP
Consultant Cardiologist

After completion of my undergraduate training at The University of The West Indies, I emigrated to The United Kingdom where I trained as a Cardiologist at Guy's & St Thomas' Hospital in London. I am a Fellow of the Royal College of Physicians in London. I became a Fellow of the Society of Cardiovascular Angiography and Interventions after completion of my Interventional Fellowship in Canada. This year I became a Fellow of the Royal Australasian College of Physicians.
Clinical Interests: I have expertise in many aspects of general cardiology including heart failure, hypertension, cardiac arrhythmias, valvular heart disease and and valvular heart disease. I also have a special interest in the invasive assessment of coronary artery disease.
Procedures: I undertake a wide range of cardiological procedures which include pacemaker and ICD implantation and interrogation, transthoracic and transoesophageal echocardiography, arrhythmia management, as well as external and internal cardioversion. I dedicate a large part of my practice to the invasive management of coronary artery disease.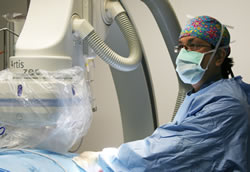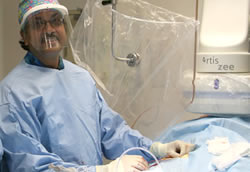 Academic Background: I spent two years conducting research at Guy's & St Thomas' looking at the role of cardiac resynchronisation therapy in heart failure management. As a research group we implanted the first biventricular pacemaker in a heart failure patient in the United Kingdom.
Fellowship: In 2004 I undertook an Interventional Fellowship at The Royal Columbian Hospital in Vancouver where I gained further expertise in the field of coronary intervention.